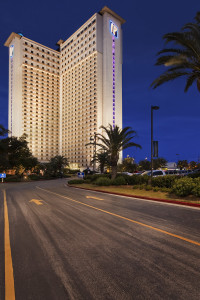 Biloxi is booming! One property that seems to always bring their A-game on the Gulf is IP Casino Resort and Spa, a AAA Four Diamond-awarded resort located on the Back Bay in Biloxi, Miss. You can't miss the towering 32-story hotel tower when coming across the I-110 bridge. Featuring a roof top pool with cabanas and cocktail services, a spa with all of your favorite treatments and services, top tier dining, including thirty-two, a restaurant on the 32nd floor of the hotel tower, IP has branded itself as a premium Biloxi gaming destination that appeals to the guests from the entire region.
Upon entering the massive lobby, you will notice the Chill Ultra Lounge, a contemporary place to relax and enjoy the sounds of some of the Coast's best local artists. Get there early on the weekends, as it tends to get crowded and seating is a premium, but the cocktails are always perfect. The stage is elevated behind the bar, making the band visible from anywhere in the lounge. Opening at 5 p.m. daily, Chill opens at 5 p.m. daily with a happy hour that lasts till 8 p.m. Every Thursday features Ladies Night, with free drinks for ladies from 9 p.m. until midnight. Chill Ultra Lounge is the perfect place to go with friends for a night on the town.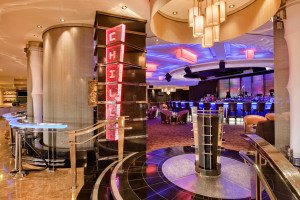 The casino floor, just beyond Chill Ultra Lounge, features 1,700 slot machines, 60 table games and a 13-table non-smoking poker room. With 70,000 square feet of gaming, you are sure to find all of your classic favorites and may encounter a new favorite game. The slot personnel and dealers are professional and outgoing to ensure guest satisfaction and make every experience at IP a memorable one.
From comedy to country and R&B to rock and roll, entertainment is king at IP. Studio A is IP's state-of-the-art theater, where every seat could be considered "the best seat in the house." Located on the second floor of the casino, this intimate venue offers comfort and personal service while you enjoy great performances from world-famous headliners.
When it's time to relax, IP has you covered with Senses Spa & Salon, a full-service spa that offers an escape from 'the everyday' and immersion into extreme relaxation. With services ranging from a 50-minute Senses Massage, to the ultimate Sense of Change combination package that features a Blueberry Wrap, Bamboo Fusion Massage, catered lunch and a Sense of Bliss facial, you can't go wrong carving out some time to indulge in Senses. Nineteen private treatment rooms, a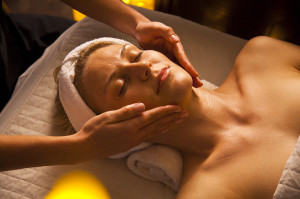 state-of-the-art fitness center and a co-ed lounge are guaranteed to provide a renewal remedy for everyone at Senses Spa & Salon. Saunas and steam rooms provide private relaxation, and the Gulf Coast's only arctic snow room refreshes and revitalizes with cooling crystals.
There are eight restaurants at IP, all featuring different flavors and price ranges. Starting at the top, don't miss thirty-two, a AAA Four Diamond-rated restaurant offering delectable stake and seafood dishes along with the finest wine selection of the Coast. The views are simply amazing, as you can see for miles across the back bay of Biloxi and Gulf Coast. Thirty-two has won a number of awards in Gaming and Destinations' Readers' Choice Awards, and once you try it, you will know why!
Another AAA Four Diamond-rated restaurant at IP is tien, a multicultural inspired venue featuring a variety of Asian cuisines including Vietnamese, Korean, Chinese and Japanese. Some options include Teppanyaki, Shabu Shabu, Dim Sum and Sushi, all served with a unique, interactive experience right at your table.
For a casual dining experience, you are sure to be satisfied. From Italian in Costa Cucina, to Highlight's Sport Lounge and High Tide Café, options abound. For all your favorites in one place, stop by Back Bay Buffet to try classic southern dishes, Italian, Asian, Bar-B- Que and more. Infusion Coffee Bar offers the finest coffee concoctions, an array of pastries and desserts, and fresh deli sandwiches and salads.
With more than 1,000 elegantly appointed hotel rooms, you will find all the comforts of home here. Make your next visit to the Mississippi Gulf Coast a trip you won't forget at IP Casino Resort Spa.
Hot Happenings at IP!
Feb. 5-6                Willie Nelson & Family
Feb. 13                 KC and the Sunshine Band
Feb. 26                 George Thorogood & The Destoryers
Feb. 27                 Arlo Guthrie – Alice's Restaurant 50th Anniversary Tour
Be sure to check out all of the fun at www.ipbiloxi.com